GRAB IT.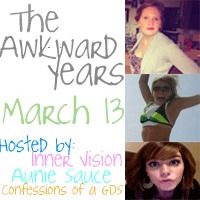 Daniel says to me,
"Can I keep you?"
I immediately replied,
"Yes. Just don't read my blog tomorrow."
This is why...
This picture is the epitome of awkward to me. It was my 2nd half marathon, Prison Break in November of 2009, and I'd had the flu the entire week. I'd already paid for the race, so I was determined to run it. Needless to say, I ran too fast, got really sick around mile 10, and had a terrible race after that. Um, as you can see, the
OLD
man in the Christmas outfit
almost beat me. Embarrassing.
As you may remember me mentioning a couple weeks ago, I have
trichotillomania
. Not only is this photo awkward, but I also have hardly any eyelashes or eyebrows. I tried to cover it by drawing on my eyebrows and heavy eyeliner. Gross gross gross. This was December of 2007.
While this photo may not look too awkward, believe me. It was.
MY DANCING is
(and always will be)
awkward
. I was a Boise State cheerleader from 2006 - 2008 and let me tell you... I could tumble. But I COULD NOT dance. Me + dancing = really, super awkward. Literally. Ask my former teammates. I was the one who got giggled and pointed at, each and every time.
This was in June of 2006. It was my first trip to Hawai'i, and I was blessed to be taken to Kauai with my friend Jenna and her family. Needless to say, I had never been in crazy sun like that. I got the
worst heat rash
, and had to wear those moist little white towels on my poor chest for half the trip. It was miserable!
I'm fairly certain that if any photo is to be awkward, or to scare off my loving, wonderful Daniel, this would be the one. It could possibly be the most unattractive photo I've ever taken. Which is why I was
absolutely certain
that I had to share it with you.
LET'S SEE YOUR AWESOMELY AWKWARD PHOTOS!!!