Hey guys! I've mentioned before how much I love spreading joy to my fellow bloggers & readers through giveaways and sharing other fun reads. Today is no exception. I got together with 15 other ladies to bring you the Blog Advice Giveaway. Basically, if you're looking to meet other amazing women, and to have someone to bounce ideas off of, today's the day. I think it should be called the "blog chat giveaway," (because is my "advice" really all that valuable? We'll see!)! So enter away, there will be 5 winners, and of course—it's open to everyone! Enjoy!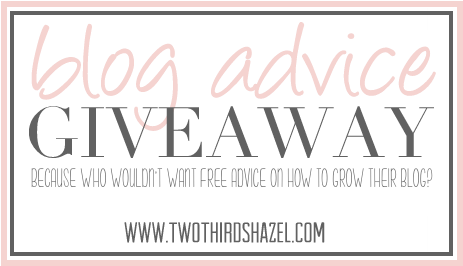 Brandi is offering a phone call or email where you will receive tips from her
on how to grow your blog using the social media form of Pinterest.
You will receive a back and forth Q&A session with Ashley via email
providing you with the answers you've been looking for on anything blog related.
Your blog will be reviewed by Mandy (and her husband!) via recorded screen capture video
and then they will offer tips on how you can improve.
Check out an example of this one of a kind opportunity here.
With Jessica you will receive a Q&A session via unlimited emails.
You will receive a back and forth Q&A session with Michelle via email
providing you with the answers you've been looking for on anything blog related