Well, we got the news.
Daniel
leaves
Sunday at 11:30 am.
Needless to say, until then I will not be answering emails,
not be doing things that are "all about me,"
and not wasting a second on things that aren't involving him...
well, until I'm off work today, anyway.
Plus, I feel like I haven't had a chance to spend
any
time with Daniel this week.
Last week Daniel suffered through a horrible cold—this week I got it,
and Wednesday and Thursday were spent with me battling sickness
while
at work.
A non-stop 2-day fever, chills, sore throat and incredibly stuffy/runny nose.
Gross.
But Daniel was a gem.
As soon as I got home each day,
he rubbed my back, let me fall asleep in his lap while he cradled my head,
brought me medicine and tucked me into my bed last night.
It was the sweetest thing.
Today I feel 76% better, and I'm ready to enjoy our last weekend together.
I know the 6-weeks he will be gone isn't a
long
time,
but amidst wedding planning and missing the guy I love,
it will feel like a long time.
Here's to 48-hours of snuggling, packing, holding hands, and
nose-kisses
.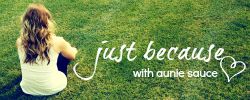 PS> New Just Because Friday button! Snag it and link up below.