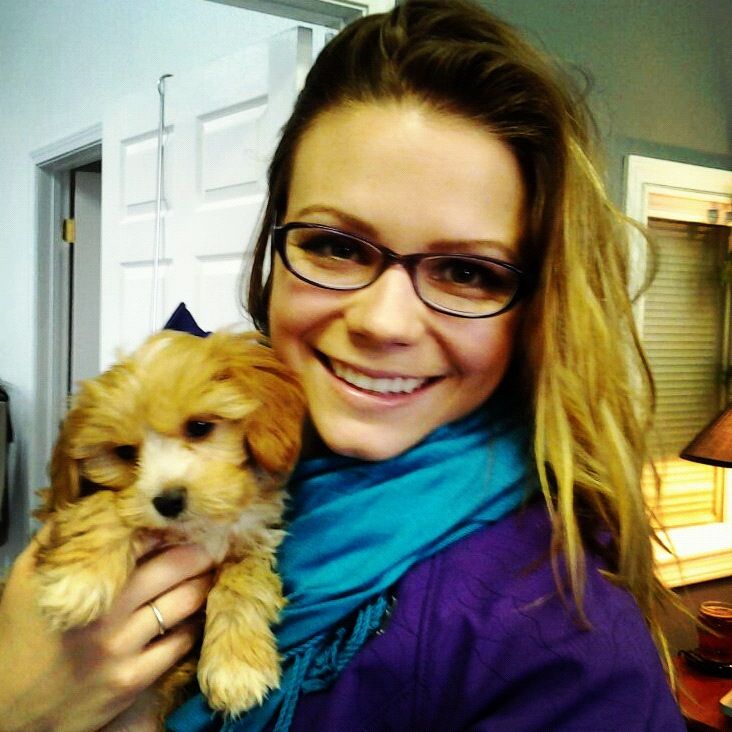 It's time for THURSDAY 13!
Unexpectedly, as you will read below, this Thursday 13 is not as peppy and bright as usual.
For that reason, my photo of the day is one of me holding a cutsie little 10-week old Cavalon (I think that's what it was). It's a Cavalier/Bishon mix.
He was adorable.
I almost stole him.
No, really I didn't...
but I sure did want to!
13 things I wish or pray for lately on a daily basis:
To be valued at work. I won't say any more than that.
For Bye Bye Beehive to be over... which it may be as early as tomorrow... who knows?
To figure out whether I'm gluten-intolerant, lactose intolerant or both. My tummy is so frustrating each and every day. I am very tired of feeling bloated (and... yeah, all those other icky unmentionable symptoms) all the time.
For my 18-year-old brother to make good, wise, smart decisions! ... those darned teenagers ...
To be able to handle my stress better. It seems to be getting the best of me.
To be able to take my negative thoughts (about others) and find what weaknesses I possess that encourage me to think poorly of others. It's just not fair for me to do that.
To find my calling! (Full time blogger? I think so!!)
To develop a better relationship with God.
To forgive myself for some of my previously hurtful actions. I know they say "it takes time," but some wounds just seem like they'll never heal. It's the worst when you know it's all your fault and you have really, truly hurt people.
For people to move on. There is almost nothing worse than not being supported by family in some of life's struggles. It's also hard to forgive yourself and move on when others won't let you.
For someone who is very, very important to me to make a change. A big one. A cold-turkey, turn your life around, and in turn have a real, amazing relationship with your family kind of change. This is one that I really, truly pray for. And unfortunately, I don't ever think this prayer will be answered.
To have the ability to get over my trichotillomania! It drives me bonkers.
To prioritize my time and consolidate all 4 blogs into one... it's currently in the process but it's a slow one.
And... if you read all 13, I apologize. I didn't mean for today's T13 to be a pity party on me. There are just a lot of things that are weighing heavily on my heart lately, and sometimes a blog is the best place to vent.

xoxo