A quick snapshot from my senior prom in 2005, a whopping 7 years ago.
Whoa. Can't believe it's that long ago!
So,
what is
Just Because Friday?
It started as a way to
share my memories from the past
, as a little send-off to the weekend. But since it's a "just because," you can really post ANYTHING...
just because
you feel like it. Sometimes it will be a past photo. Sometimes it will just be what's on my mind that day. Sometimes it could be a giveaway... either way, it's
just because
.
With that being said,
I invite you to join me every Friday
with your "just because." Grab the button, link up, and show us all your JBC. Remember, it's great to link up
anything
(yes, seriously...
any
post), because it gets your name out there, and who knows who you will meet? So... let's link up!
PS> Don't forget to enter the
Colleen Samantha giveaway
... tomorrow is the last day!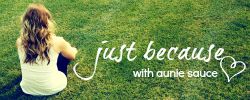 Now's your chance... LET'S LINK UP!!