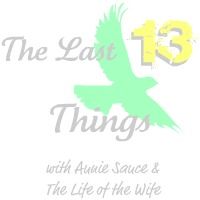 Link up TODAY
Thursday, February 23
for a combination of
We want to know 13 of the last things you did.
The last thing you ate? The last thing you thought?
LET US KNOW!
For another example of what we're talking about,
xoxo

1. Ate: A gluten free Caramel Apple breakfast bar


3. Watched: The River, Episode 4


4. Purchased: Purple Michael Kors glasses... since I now have an astigmatism. Get used to seeing me in glasses!


5. Wore: A brown silky painter's frock, from Francesca's, tucked into some red Rocks & Indigo skinnies, from TJ Maxx, with brown Rocket Dog clogs


6. Thought: Hmm... maybe I should take a photo of that outfit and put it with this post... nahhh. **Edit** After thinking it... I knew I needed to put one in because someone was going to ask for it... so here it is. And yes... I'm a pro, so pro that I meant to off-center it...
7. Drank: Agua!!
9. Prayed for: Myself! Will you please pray that I will be given an opportunity if it is right for me?... (and that's all I can tell you at this point in time, the rest will come later if it happens!).
10.
Painted on my nails
:
Mardi Gras themed green nails
!

11. Craved: Jumbo popcorn chicken from Sonic... and I'm not even sure if it's good... but it sounds good.

12. Wished for: The weekend! Surprising my dude and snuggling in bed this morning was so warm and cozy... I just wanted to stay there all day!


13.
Laughed at
: This conversation, poking fun at Daniel, in response to
this video
:
Now, go visit The Life of the Wife to see her 13 things!
Then tell us... what are the LAST 13 THINGS you did?