My 13 Favorite Songs
A little bit of 80's.
A little bit of reggae.
A little bit of show tunes.
A little bit of AWESOMENESS.
1. Bob Marley "Jammin"
2. Tina Turner "What's Love Got To Do With It?"
3. Michael Jackson
"The Way You Make Me Feel"
4. Red Hot Chili Peppers
"Higher Ground"
5. Sarah Bareilles
"Love Song"
6. Bob Marley
"Is This Love"
7. Blind Melon
"No Rain"
8. 4 Non Blondes
"What's Up"
9. Des'ree
"You Gotta Be"
10.
Israel "IZ" Kamakawiwo'ole "Somewhere Over the Rainbow"
11. Rent
"Take Me or Leave Me"
12.
OKLAHOMA!
13. Wizo
"Anneliese Schmidt"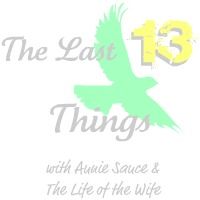 Link up next
Thursday, February 23
for a combination of
Aunie Sauce's "Thursday 13" and The Life of the Wife's "The Last Thing I..."
We want to know 13 of the last things you did.
The last thing you ate? The last thing you thought?
LET US KNOW next Thursday! See you here!