This one time,
I was a college student.
Naiive. Young. Not willing to listen to advice.
And that one time, I had major puppy fever.
So, I did what any non-sensible girl would do.
A chihuahua, to be exact.
I named her Moxie.
Moxie was, in one word-- presh.
So, so presh. All 1 pound of her.
I loved giving her little kisses.
Then—this one day,
I left Moxie at home while a friend was over.
Said friend supposedly went to let Moxie out, and she "fell off the couch"...
and broke every single bone in her tiny foot.
I think said friend may have been lying.
Just maybe.
Said friend most likely (and accidentally) stepped on little Moxie's foot,
completely shattering her little paw.
So then, this one time,
I got a hefty vet bill, and
Moxie got a cast.
It was at that time that I realized I was in over my head with this little fuzzball.
I was a full-time student, had a part-time job,
and I was also on the Boise State Cheerleading team.
So, this one time, I decided a puppy was not a good idea.
Thankfully, my aunt came to the rescue.
She adored miss Moxie and took her right in.
Then, this one time, about a year later,
I went to visit little Moxie.
The only thing I could do was give her a little kiss,
be very excited that her paw had healed,
and notice how incredibly bad her breath smelled.
Moxie is going to be 5 this year.
She's a fuzzy, kissy, sassy little lady.
I miss her...
but I'm so happy she lives with a family who can care for her and
give her all the puppy love she deserves.
So, Mom... Dad... Daniel...
Next time there's a "this one time" and you think I may be coming down
with puppy fever...
just direct me back to this post.
And then hopefully we won't have any more of
"this one times..."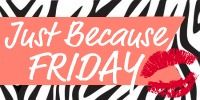 Link up your favorite post of the week!