Last October, I began the blog and 365-day project,
Bye Bye Beehive
, as a journey
to achieve the long, beautiful, healthy hair I've always desired.
The rules?
No dyeing, teasing, blow drying or frying
.
Through BBB, I'm even helping raise over
$1,500 for local cancer patients
!
Last month, I almost made a huge mistake and came so
close to quitting
.
Now, 6 months and 8 days later, I can't believe I'm over half way!
And I will NOT be quitting!
If you have some free time and want some hair-inspiration,
check out
Bye Bye Beehive
,
my
hairstyle archive
,
my
monthly hair growth updates
,
or any of my past posts related to HAIR,
head on over to
BYE BYE BEEHIVE
.
Home of all things hair—minus the hairspray, teasing, dyeing and frying.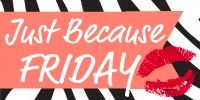 LINK UP YOUR FAVE POST OF THE WEEK ♥