Aunie's Unplugged Oklahoma Week.
For my best friend's wedding.
This is my heads up for you that I will probably not be answering emails this week.
So since I'm currently en route to Oklahoma,
I thought I'd share a little guest post I did over on
Run Faster Mommy
about my Journey to Jesus.
I know I've shared it before... but this one is a little more detailed.
I hope you enjoy it!
*************************************
Hello!
My name is
Annelise
and I blog at
Aunie Sauce
.
My nickname is Aunie... like ah-nee.
I'm a 20-something brand new Christian,
an official NON-DIY'er,
probably the worst cook I know,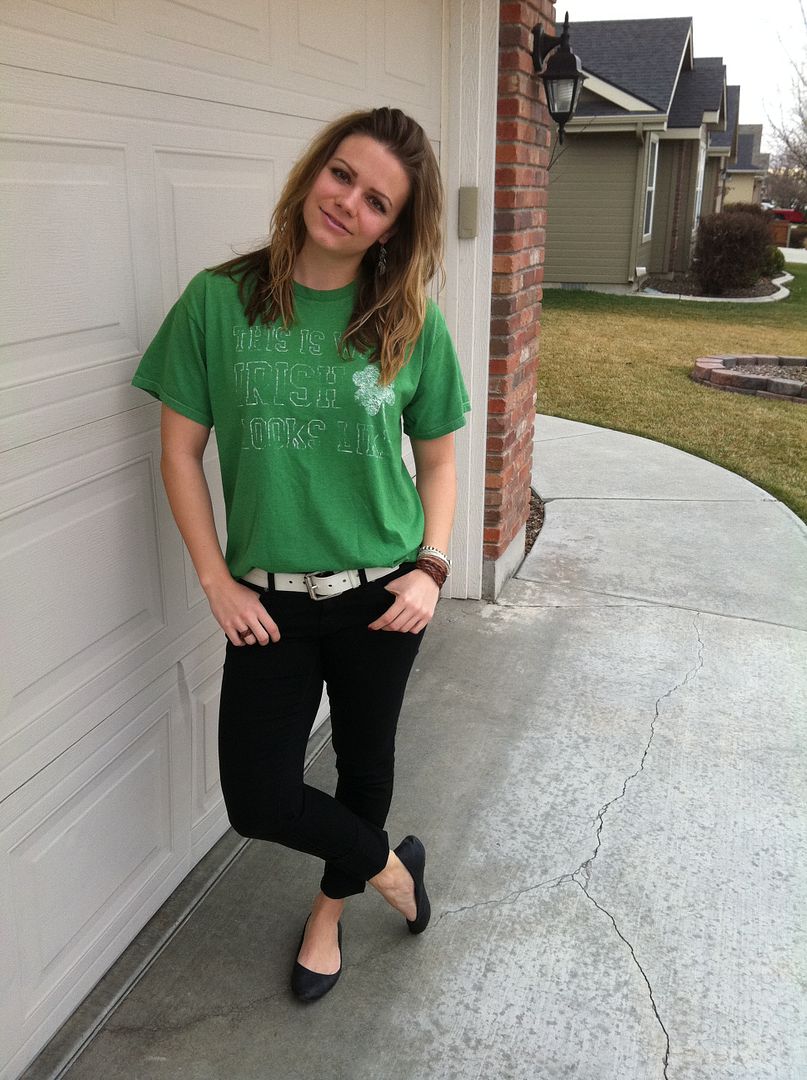 When Michelle asked me to guest post on her blog,
she asked me to be very "me" and to tell the story about how I became a Christian.
I apologize to you and her... because this post, while about my journey to Christianity, it not so very "me."
Because the truth is, it's kind of a dark story (though I won't go into the dirty details).
It's definitely not the bubbly, peppy kind of story I usually like to tell.
But you know what?
It's real. It's me. And it shows that we ALL have times when we need help.
I used to think I was a
pretty simple girl
.
And then I began blogging...
and realized that my voice is a lot saucier than I could have ever imagined.
One thing, though, was I realized that
I was so alone
.
No matter how wonderful my family is, how many blog followers I have,
or the girls who make up my closest group of friends,
I still felt alone.
I've had a rough last year.
I went through high highs, and desperately
low lows
.
Through it all, I only had myself.
I blamed myself.
It was really hard.
In March, I was invited to a local church in my town in Idaho.
I was told for years by someone I respected that people who went to church were
brainwashed
.
I was told that
evolution was the way it happened
.
I was told
there was no God
.
So, when I was invited to church, I didn't really think anything could come of it.
I really just went to support my boyfriend, Daniel.
The date was March 18th.
I never knew that date would change my life.
I summoned my strength and went to church with Daniel on that brisk morning.
As we entered the sanctuary, people were
worshiping
.
They were dancing, singing, waving their hands in the air.
I thought they were all insane.
After about 20 minutes of this worshiping, the pastor came forward to speak for a moment.
It was mostly a service of testimonials from others who had just attended the church's annual Encounter.
I was blown away with the effect that their testimonies had on me.
Each person had a
story
.
Each person had their own
struggles
.
Each person had been
saved
.
As I listened to each person speak, I began to sob.
I didn't know why at the time, but now I know it was the Holy Spirit.
After about an hour of testimonies, a group from the Worship Team performed a skit.
The skit? Everything by Lifehouse.
Holy. Moly.
I couldn't believe it.
That skit was the story of my life.
The temptations-- the suave man, money, addiction, the need to fit in to society's "image", and self-destructive behaviors...
I had experienced each and every one of them.
That skit awoke something in me--
The need to open my heart to Jesus.
I was sobbing.
Uncontrollably.
Loudly.
For all to see.
And I didn't care.
The pastor said at that moment, "If there is anyone here who does not know Jesus, please, please come forward and open your heart to Him."
And that's just what I did.
I was surrounded by some good friends, new and old.
My boyfriend Daniel was right by my side.
We all cried together as I accepted Jesus into my life.
And that was the day my life changed forever.
I haven't looked back since.
I've been on a
learning
, worshiping, crazy journey ever since.
What I've learned so far?
Jesus is love.
Love. Love. Love.
I have NEVER felt so much love.
I know that religion means something different for everyone,
but one thing is true...
God is real.
Jesus died for YOU.
There IS salvation in Him.
I really appreciate you taking a moment to learn a little more about me and my new-found faith.
No matter what you believe, we are all brothers and sisters.
Please
come say hi
to me at my blog if you have a moment.
I'd love to meet you!
And, on my exit, I thought I'd share this little poem I wrote a couple weeks ago...
xoxo,
Aunie