Sweater: Franchesca's // Top: Marc Jacobs // Shorts: Old Navy // Sandals: Steve Madden // Necklace: Gift
I want to begin this post by saying
THANK YOU
for your support. Wow. Each of you has made such a difference in my life. Your love for Aunie Sauce never ceases to amaze me. I definitely did not expect all of the love, support, and friendships that I have encountered from blogging.
I get emails all the time from people asking me, "What do you do when you find yourself in a blogging rut?"
Normally, I don't. I LOVE blogging and I never seem to have trouble finding things to write about. I never have trouble finding new and lovely blogs to gain inspiration from.
I especially never seem to have trouble getting in over my head
(right, Daniel? I know you're reading and you are the first to recognize when I'm taking on too heavy of a burden).
I'm sure you can all relate to me with that one. It seems like
time
is escaping me lately... like the sand is rushing through the hole in the hourglass faster than I can keep up with it. When looking back at my posts about my past or my
trichotillomania
, I'm sure you can guess that I have a bit of anxiety.
Just a BIT
. Anyway, as I tend to keep going, going, going, that anxiety keeps building, building and building. Right now? I'm a big huge mountain of
anxiety
.
Stress
.
Overwhelming thoughts
.
And I'm trying not to break
.
So, what do I do when I get into a blogging or "time" rut? I make changes. And soon, some of those changes will begin to take effect. I will still maintain the same blogging schedule, but I'm cutting back on some of the extra things I do. For instance, in July my
advertising options
are changing slightly. It's something I
need
to change to keep my sanity. You may think, "What are 2 extra Shout-Out and Giveaway posts a month?" Honestly? Those TWO posts take more time each month than
anything
. Whether it's collecting information from people, editing the photos, copying and pasting (or hunting down) everyone's links... it's a lot of work. Hours of work. Hours and hours and hours of work. I digress.
My point? I'm making some changes... changes that I hope will reflect the fact that my blog was created, and still is, a way for me to express myself in my little online diary of sorts. If it feels like an obligation, not a hobby I adore, it's just not as fun anymore. I hope you understand. I still love you all. See Monday.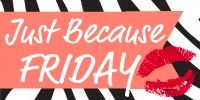 Link up... ANYTHING!
♥