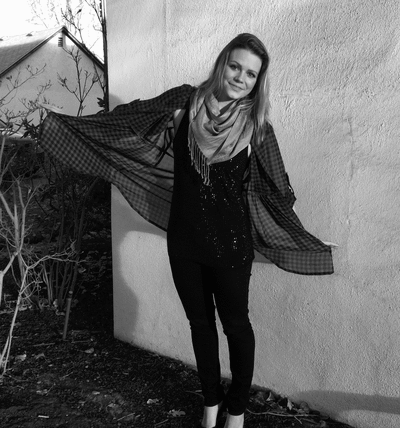 * Button-up: Thrifted * Top: Forever 21 * Scarf: Ross * Pants: Target * Hair: Really bad day!! *
Neutrals or color? I'm all about wearing neutrals lately, but I love a pop of color. Whether it's a bright top, a funky accent necklace, or a rad scarf, I'm all about color. What's life with no color?
Diet or regular? Diet. All the way. Though I try to stay away from it in general.
Winter or summer? SUUUUMMMMEEEERRRRR. Winter is my least favorite, unless I'm curled up inside by the fire with a cup of cocoa and a good book. I live for summer.
Sedan or SUV? I have never owned an SUV, but I'm sure I will when I have some kiddos (eep, did I just say that? No kids for me!) I love sedans. I currently drive an Acura TSX.
Dog or cat? Cat people sometimes freak me out. Dogs are the best. Or lizards. Both will do. If I had an endless amount of money, I would own a dog rescue. I love love love dogs.
Blonde or brunette (or redhead, or gray, or white, or black... you pick!)? I've always been a blonde, but I think that long, brunette hair is absolutely gorgeous. See my sister's hair for example. It's, like, perfect.
All up or all down hair? Well, lately I've been doing a lot of all up hair styles, with this whole Bye Bye Beehive project I'm working on. I just don't think my hair looks good down lately. But in general... I like my hair up.
Coffee or tea? Coffee tastes great, but seems to make me really nauseous due to all the caffeine. I hardly ever have caffeine. I like tea A LOT. Hot, cold... any tea.
Heels or flats? I always seem to fall down or walk like a stick person when I wear heels. I'm all about flats.
Action or drama movies? Hmm... this is a hard one. I love a good tear-jerker. But I get really into action movies. There's nothing like a good action flick at the theater.
Salad or pizza (or another delicious temptation)? PIZZA PIZZA! Yum. I would also choose ice cream over salad any day. But that's just me.
Rich or poor? If I were rich, it would make things a lot easier. I'm not going to lie. I could own a dog rescue, be a full-time blogger (dream job), and travel a heck-of-a-lot more. I would always have a little more than a little less. Or a lot more. Whichever.
Tropical vacation or mountain trip? If you know me... you know that I will ALWAYS choose the beach over the mountains. Sure, mountains are beautiful... but you can see mountains in the distance from my favorite spot on Whidbey Island in Washington. Honestly, nothing beats a warm, tropical getaway and a piña colada in my hand.
P.S.>> I'm
Confessing to a Graphic Design Student
today over at Confessions of a GDS. Check out
Kristen
... and my post, okey dokey? AAAnd if I didn't have enough going on, I'm also highlighted as a sah-sweet sponsor over at
Pics-o-Andrea
and at
Sea of Blooming Dreams
. I know. Awesome, busy day. xo
Next Week's Topic? Unrealistic Wishes. Email me for to join the Thursday 13 party!