Just so you know,
it's a beautiful Tuesday morning over here in Sauceville.
And as I'm looking around,
I'm seeing a couple new neighbors.
I'm not sure if you're finding yourself among one of the newbies in the neighborhood,
but I'm here to welcome you.
So go ahead, raise your hands if you're new.
You can also say hello
here
.
And hey, maybe you haven't had a moment to catch up on my archives.
And that's OK.
Want to learn more about me?
But in case you're not much of a reader,
I'll just show you a little bit of what I'm about.

I have a really studly dude in my life.
His name is Daniel.
He is super.
I'm big into working out.
I do it... 5-6 days a week.
And a lot of the time, I like to
instagram
my workouts.
Which usually means I'm ready to be done at the gym for the day.
I looooove food.
Specifically anything containing cheese.
Mac-and-chese. Pizza. Pasta. Cheese.
All of those.
The beauty below is the Pesto Pizza from the famous Village Pizzeria in Langley, Washington.
And also, despite my general distaste for shopping,
I do like clothes.
I like mixing and matching outfits.
Putting together tons of different combinations with simple, basic pieces.
Style
is a big thing on this blog.
Not big as in "good," but big as in common.
I guess.
So, now that we know each other
(you can also say hi in the comments),
I think I've had enough of talking about me.
I'd like you to meet my favorite little lady this month.
Tranae from
Becoming Fabulous
.
Let me just say this about Tranae.
Funny, fashionable, and a big heart.
Tranae has been on my
Saucy Team
since the beginning of Aunie Sauce.
I really appreciate her and her friendship.
Make sure to read to the end for a little surprise from our friend, Tranae!
***********************************************


Hi there, you saucy readers. I'm Tranae, a sweet Georgia peach with dreams of
Becoming Fabulous
. I'm almost there, the other times I fake it.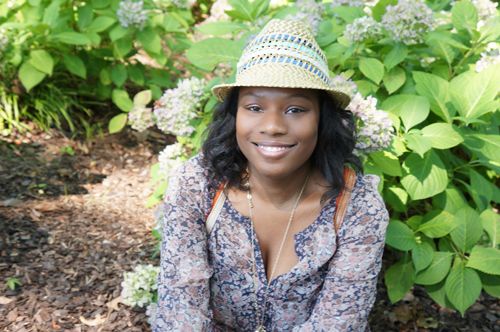 This week the hubs and I are celebrating our four-year anniversary of jumping the broom.
And since Aunie was gracious enough to allow me to guest post on her blog, I thought I would seize this opportunity to share ways to keep from smacking (or getting smacked by) your significant other.
Now I know you may be thinking, what does she know? I have drawers older than four years. I get it…no one really wants to hear relationship advice. But I'm gonna tell you away.
J
And at the end, I'll give you a little something just for reading.
At least once a week, you should chase or play some type of joke on each other. Believe me nothing says I love you like having someone you love scaring the piss out of you.
~Shut Your Pie Hole While He/She is Driving
Did Mr. Gibbs tell Captain Jack Sparrow how to sail the Black Pearl? Did Scotty complain on how fast Captain Kirk flew the Enterprise? Did Neo tell Morpheus how to pilot the
Nebuchadnezzar?
No! Nothing is more annoying that side seat drivers… so shut it.
~Don't Eat Gassy Foods Before Going to Bed
Nothing says mood kill like smelly farts so if you can avoid gassy food before bed, do it. In the event you can't avoid ripping one, make sure your partner's head is completely under the covers and when they pop from under the covers with that confused look on their face say…Got Ya!
~No Fondling While Blogging
Unless your blog pays 99.9% of your bills, this is not the time to multitask. Put the computer down, have your fun. I mean, would a 15 minute break really hurt?
There will be days when you feel like smacking your boo thang but don't. On these days make yourself a couple of Long Island Ice Teas and curl up with your nearest 50 Shades books. After reading, your desire to smack will turn into a craving to be smacked. (Lame…I know. I should have stopped at number four but where is the fun in that?)
See… that wasn't so bad. Be sure to stop by
Becoming Fabulous
and drop me a line. I'm desperately seeking new readers.
And just for sticking it out to the end of this post, I'm offering you the opportunity to
win a $10 Starbucks gift card
and the
featured ad space on my blog
for the month of September. Good luck and thanks guys.
a Rafflecopter giveaway