Necklace c/o: Ashlee Alaine Designs
I've been called saucy,
sassy,
and swanky.
But under all the zebra print,
glitter, and confetti...
my favorite thing to write about is what's on my heart.
It's usually love.
Just saying.
But in case you'd like to catch up on my more heartfelt posts,
I've collected them all here for you.
You lucky duck.
Changes
Courage
Rejection
Pulling Back
Compassion
Doubt
Inspired
Okay
PS> Today I'm featured on my good friend
Matt's blog
. He's a Christian, he has a heart for missions, and eventually he is going to move to Mexico and change lives with the power of God. Give him a visit today, read his kind words about me, and show him some saucy love!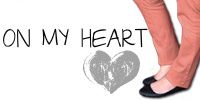 What's on your heart today?
I'll give you one hint about what (or who) I'm thinking about. Starts with a D and is 6 letters. Obvious?